Accelerated Networking (AN) is now widely available for Windows and the latest distributions of Linux providing up to 30Gbps in networking throughput (that's a 10x increase), free of charge!
Accelerated Networking bypasses Azure's host and virtual switch to speed up network traffic (see diagram):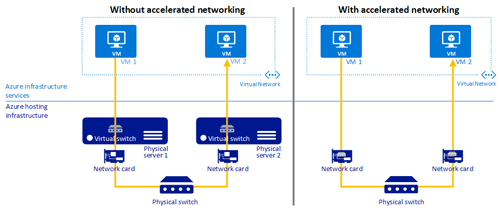 With the General Availability of AN, region limitations have been removed, making the feature widely available around the world. Supported VM series include D/DSv2, D/DSv3, E/ESv3, F/FS, FSv2 and others.
Whilst AN was in preview, Accelerated Networking had some limitations; it couldn't be applied to existing systems. However with GA, Windows Server 2016 and Windows Server 2012R2 come with AN enabled by default (as do many Linux distributions) so no additional configuration or setup is required.
To check if you have AN enabled on a windows machine:
Confirm that the Mellanox ConnectX-3 Virtual Function Ethernet Adapter appears, as shown in the following picture:




Enjoy faster Networking speeds.